| | |
| --- | --- |
| | Celestun |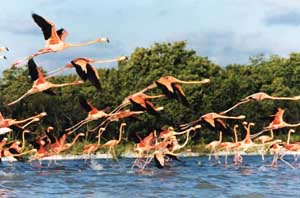 Flamingos in Ria Celestun
Photo Credit: Yucatan State Secretary of Tourism
Looking for a place to get away from it all? ... Celestun is a very viable answer. Very little happens here where there are many natural wonders to see.

Ria Celestun is one of a handful of breeding grounds for the pink flamingo. A ride in a shallow drafting "lanchon" gets you close enough to see them taking care of their brood.

Explore "Ojos de Agua" in the nearby mangroves and encounter a wide variety of tropical birds and other fauna including spider monkeys.

Celestun is situated west of Merida on the Gulf of Mexico side of the Yucatan Peninsula. It might sound far from Merida, but the ride from Merida's airport takes less than an hour and a half.

Lots of fishing, beachcombing on shell-filled sand, rest and relaxation to enjoy. Closest disco is about 100 miles away!
External links: