| | |
| --- | --- |
| | Chihuahua |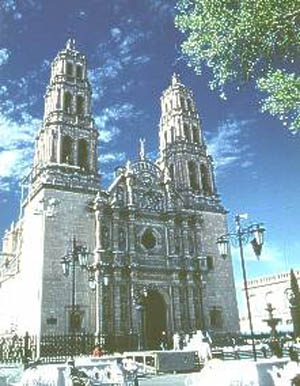 Chihuahua's Cathedral
Photo Credit: California Native Adventures
As capital of the state with the same name, Chihuahua, founded in the early eighteenth century, thrives as the center of a vast economic region based on mining, agriculture and livestock. Chihuahua is also the gateway to the Copper Canyon and lies on the main highway from Mexico City to Ciudad Juarez (El Paso, TX).

Though somewhat isolated from the rest of Mexico, Chihuahua has figured historically during most developmental periods. Miguel Hidalgo - leader of the Independence movement from Spain was executed in this city. Pancho Villa's army was once captured in this city when the troops were dressed as peasants attending the local market. Benito Juarez, leader of the movement that separated church and state in Mexico, regrouped in Chihuahua during the French occupation in Mexico.

Tree lined boulevards, colonial mansions and thriving markets add to the flavors of Chihuahua. Tall, blond and blue-eyed Mennonite farmers from the surrounding area are found in the city peddling their cheeses on the street corners in their classic cover-alls.
Travel to Chihuahua
External links: