| | |
| --- | --- |
| | Cuernavaca |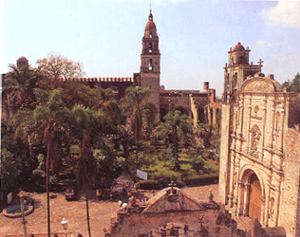 Catedral de Cuernavaca
Photo Credit: Mexican Government Tourism Office
World famous for its year round spring-like climate, Cuernavaca was the holiday choice of Aztec kings long before the Spanish conquest. Hernan CortÚs followed that tradition and built a palace which still stands and houses the Historical Museum. The construction of the Cathedral was personally supervised by CortÚs and housed Franciscan missionaries.

Cuernavaca is approximately 40 miles south of Mexico City but worlds apart in pace. At approximately 5,000 feet in altitude, it is some 2,500 feet lower and thus warmer. Magnificent views of the western flank of Popocatepetl Volcano can be seen on clear days.

The Tepozteco Valley viewed from the hills surrounding Cuernavaca offers impressive sights that inspired Dr. Atl and other mexican painters.
Travel to Cuernavaca
External links: