| | |
| --- | --- |
| | Cancun |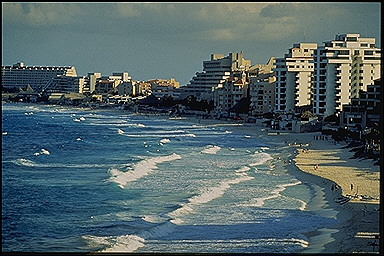 Caribbean Side Beach - Hotels
Photo Credit: Mexico Ministry of Tourism
Developed from a pristine natural environment in the 1970's, Cancun today is a bustling resort mecca offering a wide range of accomodations and entertainment activities for every budget. Its beaches contain some of the whitest sand in the world - so white it reflects the heat and your feet do not burn when you walk on them.

The hues of blue of the water range from turquoise to green. Impressive Mayan ruins at Coba, Chichen-Itza and Tulum are within a two hour drive.

At night, the discos come alive and stay humming a loud beat until the sun comes up over the Caribbean Sea.
Travel to Cancun

Apple Vacations



e-Travel Solutions - Best Day


External links: