| | |
| --- | --- |
| | Hermosillo |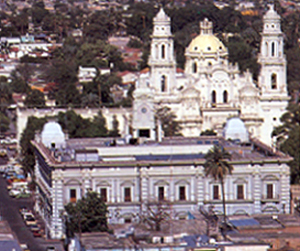 Cathedral and Municipal Palace

The area around what is now Hermosillo was first settled by the Spanish Conquistadores in the early 1700's. The earliest settlement was named Santisima Trinidad del Pitic by Don Juan Bautista de Escalante. After Mexico gained independence from Spain and the states of Sonora and Sinaloa were formed, the settlement was named in honor of Jose Maria Gonzalez Hermosillo, an Insurgent in Mexico's Independence movement.

Hermosillo is situated next to a lake at the confluence of the Sonora and Zanjon Rivers about 160 miles south of the Mexico/US border at the "twin" cities of Nogales, Arizona and Nogales, Sonora. It's also about 60 miles east of Kino Bay along the Sea of Cortes and about 75 miles north of Guaymas, one of Mexico's principal commercial ports.

Though declared the capital of the state of Sonora at its inception, its status as the seat of government for the area was revoked and renewed several times prior to a definitive declaration in 1917. Since the mid-1800's, Hermosillo is the commercial, political and educational center of this progressive region.

A vast amount of fertile and arable land surrounds Hermosillo. The harvest realized from the cash crops farmed in the area along with ranching and mining operations fueled the local economy for many years. Ford Motor Company invested billions of dollars in developing a manufacturing plant in Hermosillo. This triggered automotive suppliers and other manufacturers to create "maquiladoras" in the area's industrial parks.

Hermosillo's population has a 95% literacy rate. The work force is young, skilled and well-trained.
Travel to Hermosillo
External links: