| | |
| --- | --- |
| | Patzcuaro |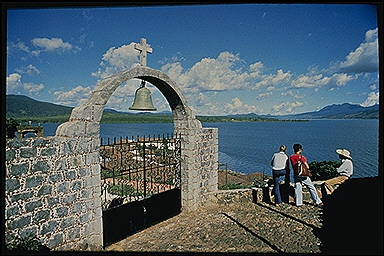 View of Patzcuaro Lake
Photo Credit: Mexico Ministry of Tourism
Next to the lake with the same name, the town of Patzcuaro is peaceful and quiet for fiftyone weeks of the year. As one of the principal places for celebrants of the "Dia de los Muertos" - "Day of the Dead" is the island of Janitzio on Lake Patzcuaro, the town of Patzcuaro and surrounding area transforms around November 1.

Lake Patzcuaro is famous for its white-fish and colorful fishing canoes whose "butterfly" nets are used to catch the tasty creatures. A large statue of Jose Maria Morelos y Pavon, a native of the area and one of the fathers of Mexico's Independence movement, sits atop a mountain on Janitzio island and dominates the scenery.

Villagers from towns nearby trek to Patzcuaro on Fridays for Market day. Colorful blankets, copper tooled and lacquered wood items are found throughout the market.
Travel to Patzcuaro
External links: