| | |
| --- | --- |
| | Puebla |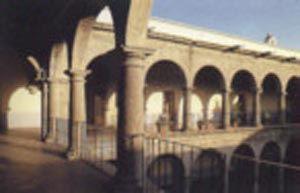 Hospital San Pedro

As Mexico's fourth largest city in population, Puebla has played an important historical and commercial role. An overwhelming loss by the French invaders in the Battle of Puebla celebrated on May 5, 1862 was a turning point in Napoleon III's presence in Mexico.

Colonial buildings are found throughout Puebla with a heavy concentration around the Zocalo or main square. The strong influence of the Catholic church dating to the time of Cortes is still felt around Puebla. The Cathedral of the Immaculate Conception, the Church of La Compañía, the Church of Santo Domingo and others attest to this in today's Puebla.

Commercially, German Volkswagens have been manufactured in a plant in the outskirts of Puebla for over thirty-five years. This plant is one of two in the world where the famous Volkswagen beetle is still built.

Talavera - the colorful ceramic tile and other artifacts with strong moorish influence - is also manufactured in Puebla. A semi-soft candy made from sweet-potatoes, called "Camotes" and flavored with other fruit components is native to the area.
Travel to Puebla
External links: