| | |
| --- | --- |
| | Saltillo |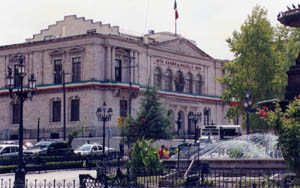 Casino de Saltillo@Armas Plaza

Famous for multi-colored traditional sarapes, Saltillo's roots date back to the late 1500's when it was settled by Francisco Urdiñola. Though it appears in a list of settlements prior to 1574 that was sent to King Phillip II of Spain, Saltillo's accepted foundation date is 1577.

Expeditions sent to explore the territory north and west of Saltillo were based in this broad valley which was populated by nomadic tribes that would not let themselves be subjugated by the "Conquistadores". They were warriors, hunters and did not accept the settlers easily. After several skirmishes, the settlement was about to disappear in 1581. To reinforce the settlers' efforts, groups of Tlaxcaltecans were invited as examples of "civilized life" to assist in developing an agricultural and livestock economic base that flourished greatly.

During colonial times, Saltillo was the capital of the Spanish province that included the vast territory to what is now the states of Texas, New Mexico and Colorado.

Saltillo's name derives from a "salto" - a water spring - at Ojo de Agua where General Zachary Taylor camped during the Mexican-American War of 1846 with his men prior to the famous "Batalla de la Angostura".

Today, Saltillo is an important industrial city with a diverse economy.
Travel to Saltillo
External links: