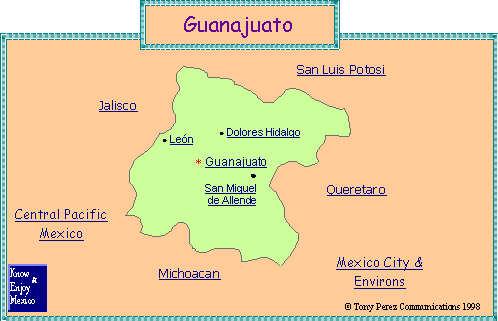 Description

Situated half-way between Mexico City and Guadalajara enveloped by the plains,
peaks and plateaus of the Sierra Madre, the state of Guanajuato is
geographically blessed.  Exploratory and settlement operations during Colonial
expansion influenced the area's growth and economic expansion.

Guanajuato is home to some of the most important silver and gold mines found
in Mexico and wonderful Colonial architectural jewels.  The area served as the
cradle of Mexico's Independence from Spain's Colonial Rule.

Today's Guanajuato is blessed with preservation of its Colonial heritage and a
growing industrial base responding responsively to the needs of its people and
traditions.  Leon's shoe crafters are world-famous for leather quality and
craftsmanship.  Haciendas, art shops, colonial treasures turned into boutique
hotels dot the country-side and invite travelers from all over the world.