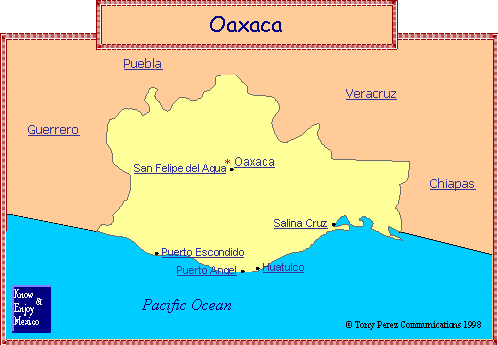 Description

Oaxaca borders on the north with the states of Veracruz and Puebla; on the
west with Guerrero, on the south with the Pacific Ocean and on the east with
Chiapas.  Its topography varies tremendously - from the coastal beaches to the
extensive valleys, gorges and high sierra.

Oaxaca is steeped in history and tradition.  The Mixtecas and Zapotecas where
powerful pre-Columbian cultures.  Shortly after colonization, the King of
Spain granted CortÚs the title of "Marques del Valle de Oaxaca".  Two of
Mexico's most impactful presidents - Benito Juarez and Porfirio Diaz are
native sons of the state.

Visitors can enjoy pre-Colombian ruins, Colonial churches, museums and a vast
number of villages with differing artistic media.  The climate and beaches of
Oaxaca's Pacific coast rival that of other Mexican resorts.