| | |
| --- | --- |
| | Ciudad Acuņa |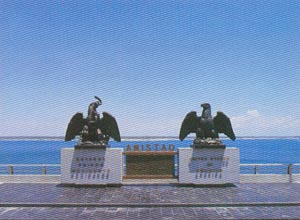 Eagles at Presa de la Amistad
Photo Credit: Ciudad Acuņa Tourism Board
Situated across the US border from Del Rio, Texas, Ciudad Acuņa - once a sleepy border town - is fast becoming an industrialized city due to the "maquila" activity in the area. Well stocked souvenir shops, bars and restaurants proliferate along Calle Hidalgo - the main street.

In 1995, Robert Rodriguez' popular movie Desperado starring Antonio Banderas and Salma Hayek was filmed entirely in Ciudad Acuņa.

Popular Tejano and Country and Western singers perform at the Corona Club and other local venues on a regular basis.

Presa de la Amistad or Friendship Dam along the Rio Grande forms a vast lake popular with sport fishermen.
External links: