| | |
| --- | --- |
| | Rosarito |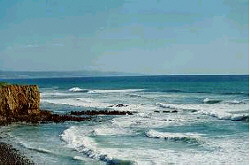 Beaches North of Rosarito
Photo Credit: Rosarito Tourism Committee
Small ranches flourished in the area known then as Las Californias after Mission San Diego de Alcalá was founded in the late 1700's. One of these was called "El Rosario" giving its name to the area around this city some fifteen miles south of Tijuana. Farmers and ranchers started settling in the 1820's.

Rosarito's fame goes back to Prohibition days when the Rosarito Beach Hotel was opened to cater to thirsty tourists from southern California. Its territory ranges from the bluffs overlooking the Pacific Ocean - some with working corn-field rancherias - down to the beaches.

Present day Rosarito is full of fun oriented activities for people of all ages. Discos, volley-ball courts, nearby surfing spots and many local bars cater to the "young and the restless". Restaurants ranging from gourmet to taco-stands cater to all palates. Lounging on the beach or at the pier extending from the Rosarito Beach Hotel are relaxing spots to read books and admire sunsets.

Filming the latest version of "Titanic" at a movie set in nearby Popotla fueled an already phenomenal growth rate. From late spring through early fall an endless party atmosphere fills the air.
Travel to Rosarito
External links: