| | |
| --- | --- |
| | San Felipe |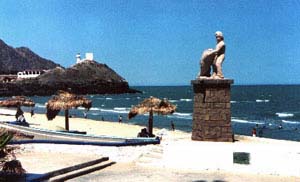 San Felipe Beach
Photo Credit: David Hopps
Approximately three hours south of Mexicali along the eastern seabord of the Baja Peninsula lies the village of San Felipe - fast becoming a vacationing spot for the millions of residents of the state of Arizona as well as those in southern California.

San Felipe's origins date back to 1746 when a Jesuit named Fernando Consag landed four canoes in the area with settlers. A mission and port were established in 1797 but both failed and most settlers left in 1806.

San Felipe remained virtually disconnected from the outside world until a road was put in to build a radar station in the southern end of the bay.
External links: