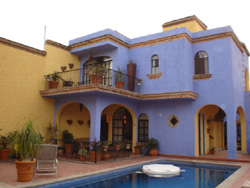 Patio & Pool at Villa Ensueño

Visit their Website
Address Florida # 305 - Tlaquepaque Section
Telephone +52-333-635-8792
Comment A unique and relaxing boutique hotel in the heart of Tlaquepaque's handcraft district. Fully air conditioned ... two heated pools ... outdoor jacuzzi. Established in 1996, La Villa del Ensueño is the first hotel in the area and still the best! ... 20 rooms and suites for your enjoyment.